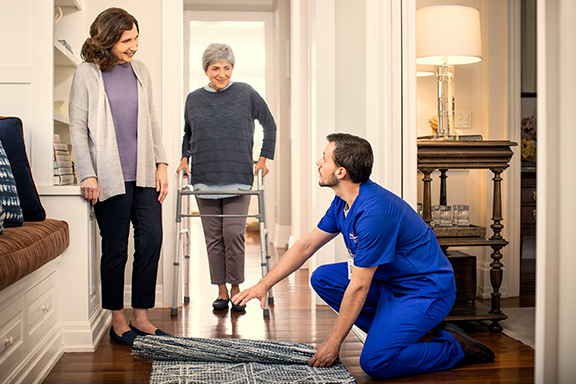 At BrightStar Care patient safety is our top priority. Our agencies lead the charge in providing safe, quality home care through Joint Commission accreditation and following the National Patient Safety Goals.
Why are patient safety goals important?
Simply put, focusing on patient safety and improving the quality of care helps prevent negative outcomes like falls and infections. Falls can be traumatic themselves, and they can cause more serious health issues, especially in frail older adults. Infections result from exposure to new germs brought into the home or eating spoiled or contaminated food.

BrightStar Care takes patient safety goals very seriously. We want to keep our clients as healthy as possible for as long as possible so they can stay at home longer—something that is so important to an individual's physical, social, and emotional health.
What are the National Patient Safety Goals?
The Joint Commission, an independent, not-for-profit organization that evaluates the quality and safety of national healthcare organizations, identifies five National Patient Safety Goals for all accredited entities including home care as follows:
Identify patients correctly
Use medicines safely
Prevent infection
Prevent patients from falling
Identify patient safety risks
How does BrightStar Care follow the National Patient Safety Goals?
1. Identify Patients Correctly
While this is especially crucial for hospitals or other institutional settings with multiple patients in the same building, proper patient identification processes are also important for in-home care. BrightStar Care identifies each client and plan of care by name and their Patient ID number, and a client photo is also sometimes added to files for an additional measure of identification. Our professional caregivers know to check for these items to make sure they are performing the right tasks for the right person. The same identification steps are taken when documenting notes on client files. This is important for creating an accurate client history as well as communicating changes in condition to the BrightStar Care Registered Nurse Director of Nursing.

2. Use Medicines Safely
BrightStar Care assists many of our clients with medication management, from oversight and reminders to administration, and follows The Joint Commission's National Patient Safety Goals standard for medicines very closely. During the initial new client assessment, a BrightStar Care Registered Nurse conducts a detailed review of all medications as part of creating a unique plan of care, noting any potential interactions or high-risk medicines, such as insulin, to be handled following proper protocol. A medication review is performed every 60 days for skilled care clients and every 90 days for personal care clients to ensure the plan of care is current. An accurate medication history is important for all clients because it allows us to carefully monitor how medications can affect everyday life. For example, if a client is on blood thinners, excessive bleeding or bruising may indicate a change of condition and require prompt attention.

We also ensure there is no room for misinterpreting physicians' orders regarding medication. This includes verbal confirmation with the physician if the orders are not clearly legible or written according to the standards of The Joint Commission. Many physicians use shorthand to communicate medication instructions, so we also use The Joint Commission's National Patient Safety Goals list of "Do Not Use Abbreviations" to eliminate any confusion about the dose or frequency of the medicine.

3. Prevent Infection
Germs are everywhere—even in your own home—so one of the most important ways we prevent infection is through proper hand-washing techniques and frequency. We train and competency test all caregivers on proper hand-washing. During supervisory visits, a Registered Nurse observes and documents whether caregivers meet the techniques and frequency standards in clients' homes. We track the data from these observations as part of our brand-wide safety and quality measures, and they are a performance-improvement indicator for Joint Commission accreditation.

Another important aspect of infection prevention is being mindful not to bring in new germs into a client's home. Sometimes, our care professionals may visit more than one client in a day, so they properly clean equipment or medical bags they bring from home to home. We also track and trend immunizations for employees to encourage our staff to stay healthy and avoid unintentional infection transmission to a client.

4. Prevent Patients from Falling
As part of our comprehensive initial visit, a Registered Nurse conducts an assessment of health-related fall risk and uses her professional analysis to create the appropriate approach to care and reducing those risks. We perform this unique level of assessment at least every 6 months for companion-care clients, every 90 days for personal-care clients, and every 60 days for skilled-care clients. Our professional caregivers also review a home safety checklist for environmental fall risks in the home and provide the results to family members. We even have a special home safety checklist for clients living with dementia who have special fall-risk considerations. We track and trend falls, those that occur with or without a BrightStar Care caregiver present, and use the data to identify opportunities to update caregiver training or reevaluate care protocols or client equipment needs.

5. Identify Patient Safety Risks
Oxygen tanks are highly combustible and one of the most serious patient safety risks. If a client requires the use of oxygen therapy, we perform a detailed home safety oxygen risk assessment and provide important education materials for families. We also require that a "No Smoking – Oxygen in Use" sign is posted on the client's door or in their environment to help prevent oxygen-related fires and explosions and keep our clients, their families, and our employees safe.
Don't all home care agencies follow the National Patient Safety Goals?
No, they do not. While we are confident patient safety is a concern for all healthcare professionals, not all home care companies adhere to The Joint Commission's specific safety standards and protocols. In fact, less than 10% of national home care brands pursue Joint Commission Accreditation, and BrightStar Care is the only home care brand in the country to have earned The Joint Commission's prestigious Enterprise Champion for Quality award every year it has been offered. Additionally, the active oversight of our Registered Nurse Director of Nursing of every client's care team uniquely positions BrightStar Care to provide A Higher Standard of clinical quality and patient safety.