BrightStar Care of Central DuPage Receives 2019 Best of Home Care® – Leader In Excellence, Provider of Choice & Employer of Choice Awards From Home Care Pulse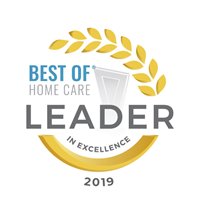 BrightStar Care of Central Dupage announced today that it received the distinguished Best of Home Care –Leader in Excellence Award from Home Care Pulse, the leading firm in quality assurance for home care. The Leader in Excellence Award is the highest recognition awarded by Home Care Pulse and is given to select home care businesses that consistently rank among the very highest in 10 or more quality metrics. As a Leader in Excellence, BrightStar Care of Central Dupage is now ranked among the top 10% of home care providers participating in the nationwide Home Care Pulse Satisfaction Management Program. In addition, BrightStar Care of Central Dupage was awarded the Provider of Choice and Employer of Choice accolades for their superior client satisfaction ratings and feedback obtained by Home Care Pulse in 2018.

This accomplishment demonstrates BrightStar Care of Central Dupage's long-term dedication to excellent care and quality improvement. To qualify for this award, 10% of our clients and caregivers were interviewed each month by Home Care Pulse. Over a 12-month period, our agency received high client and caregiver satisfaction ratings in areas such as caregiver training, compassion of caregivers, communication, scheduling, client/caregiver compatibility, etc. Using feedback from clients and employees, as well as quality benchmarks from Home Care Pulse, the BrightStar Care of Central DuPage management team set goals to reach the highest level of excellence possible.

"Having received this award for two years in a row, it is a true testament to our commitment to providing a higher standard of personalized home care for our clients and an excellent employment experience for our staff," says Diane Thorson, RN, MSN, Director of Nursing and Compliance.
The Best of Home Care – Leader in Excellence Award highlights the top-performing home care businesses in the nation. Home Care Pulse believes that by honoring these providers, families looking for in-home care for a loved one will be able to recognize and choose a trusted home care provider.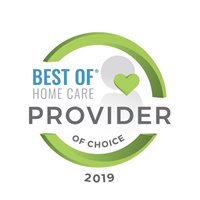 "Our goal at Home Care Pulse is to empower home care businesses to deliver the best home care possible," says Erik Madsen, CEO of Home Care Pulse. "We are happy to recognize BrightStar Care of Central DuPage as a Best of Home Care award-winning provider and celebrate their accomplishments in building a team of happy, qualified caregivers who provide outstanding care for their clients."
About BrightStar Care of Central DuPage
BrightStar's Professional Care Team, led by a Registered Nurse Director of Nursing, delivers expert, compassionate, and personal home care. Our care experts are ready to serve 24/7. RN oversight ensures the right care from the right people. We proudly provide home health care and support for seniors to children, including 24-hour skilled nursing and support in senior independent and assisted living communities. Proudly serving Dupage County, Illinois.
To find out more about BrightStar Care of Central DuPage and our commitment to excellence, please visit www.brightstarcare.com/central-dupage-wheaton or call (630) 260-5300.
About Home Care Pulse
Home Care Pulse is the home care industry's leading firm in satisfaction research and quality assurance. On behalf of home care businesses across North America, Home Care Pulse gathers unbiased satisfaction ratings from clients and caregivers and detailed feedback to ensure the best in-home care possible can be provided. Powerful online reports allow businesses to identify needs and take action to reduce increase satisfaction, reduce caregiver turnover, and address client needs. For more information, please call Home Care Pulse at (877) 307-8573 or visit homecarepulse.com.