#1 Rated home care agency in San Diego!
Award-winning Home Care for the Greater Carlsbad area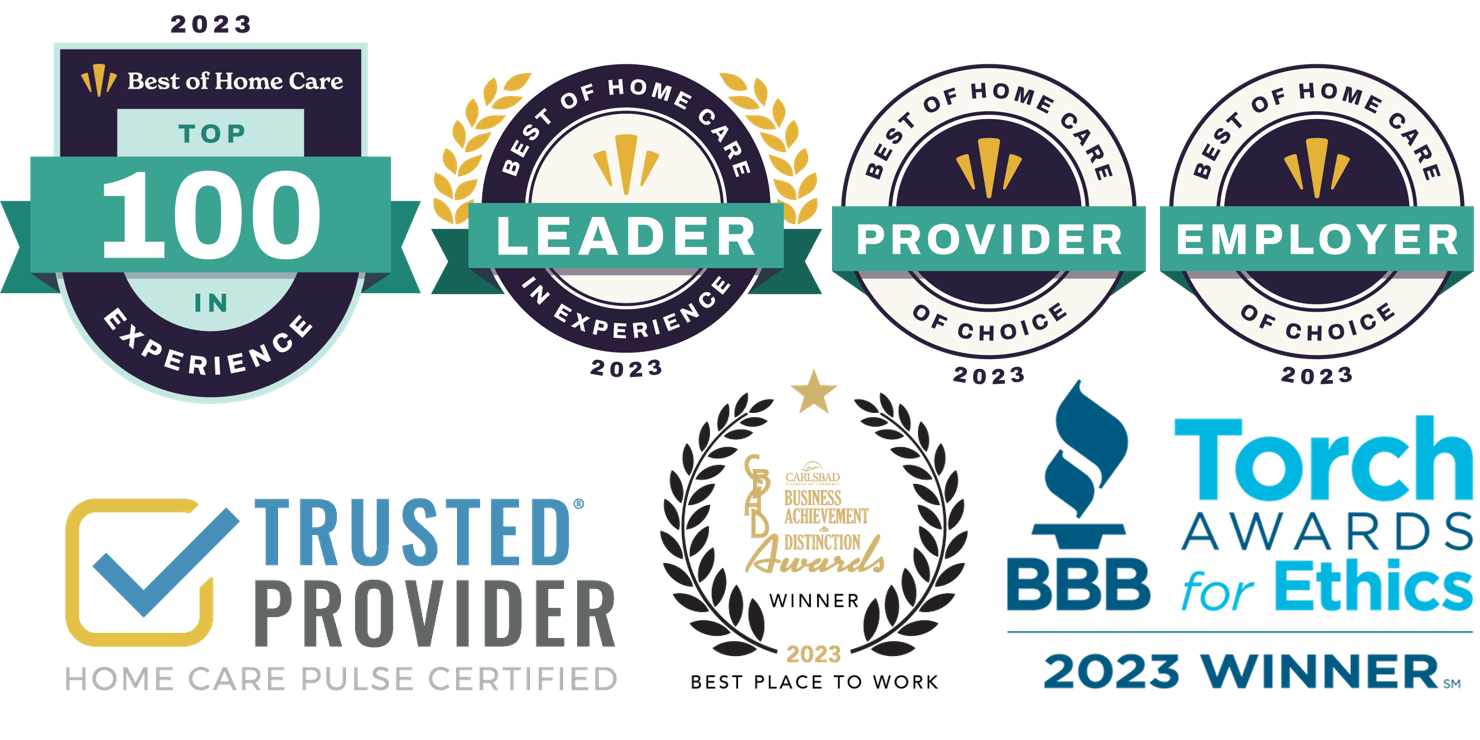 BrightStar Care
®
of Carlsbad offers the highest quality, most professional and most compassionate in-home care services for Coastal North County, including: Carlsbad, Oceanside, Vista, La Costa, Fallbrook, and Camp Pendleton.
BrightStar Care nurse smiling at client in wheelchair
Proudly Serving the Greater Carlsbad, CA Area
We are the #1 rated home care agency in San Diego by Home Care Pulse, #3 in California and one of the 100 best homecare agencies nationwide (out of over 11,500). If you are looking for a trustworthy in-home care provider in the Coastal North County area, we're here 24/7 to help you get started. Call us anytime... 760-448-1021
Carlsbad
Oceanside
Vista
Fallbrook
La Costa
Rancho Carlsbad
Bressi Ranch
Rancho Del Oro
Ocean Hills
Tri-City
Bonsall
Contact Us
Don't see your city?
We may be able to accommodate locations outside of the cities listed above. Reach out to our 24/7 care team at 760-448-1021.
BrightStar Care caregiver assisting client in wheelchair
Grow Your Career with BrightStar Care!
Do you care for others with your whole heart? Apply today!


At BrightStar Care of Carlsbad, CA, we're always looking for the best-of-the-best caregivers, CNAs, HHAs, LVNs and RNs who are passionate about giving high quality care. Click below to search our careers.

Join a team that takes great care of you, so you can take great care of your clients!
Search Careers
What Our Customers Say
The fear of trusting perfect strangers with your most precious and vulnerable family members is the hardest thing ever, especially when you are 1200 miles away from the situation. My 85 year old Mother who is in late stage Parkinson's took a horrible spill down her stairs in her home and unfortunately it brought us to a place where we needed to start making some really hard decisions. My mother was released to go home with in home hospice care and with my dad being 85, he just couldn't take on all of my mothers needs as hard as he tried it just became very overwhelming. Along comes Dan from BrightStar Care! From the first moment we spoke he showed such compassion and care for the situation my family was in. He and his nurse Tina came in almost immediately to assess what or needs were. Tina really took the time to ask questions and was so gentle with my mom. I don't know how to truly show the amount of appreciation I have to Sandra and Julia who came into a chaotic situation and continued to show compassion and understanding not only to my mom but to my dad and everyone else who was in their home. Being 1200 miles away is hard enough but BrightStar treated me and my family with such respect, compassion, and caring. Their communication with me was unbelievable as they all kept me updated every step of the way. I HIGHLY recommend to anyone looking for a caregiving service to look no further than BrightStar Care. I can't say enough great things about this company. Thank you Dan, Tina, Sandra & Julia for treating my family as they were your own!! Thank you just doesn't seem enough!
Danielle Woodhull
Google Review
We have been with the company for a long time and the whole time, Megan has been very sensitive to our needs and our standards. Megan has been a very good addition to the company. We are very pleased with our caregiver Hope, she is very sweet and caring. Overall the company has been great to us.
BrightStar is an amazing service! Their attention to detail and kind care was very appreciated while my husband recovered from surgery. Both Bac and Bertha were helpful and ready to jump in to assist with any needs. Having them help gave us piece of mind and truly was a blessing.
Jeanie Kennedy
Google Review
Miguel Sixto
Google Review
Great caring company, caregivers are well experienced and know what to do, what is expected, always punctual and go the extra mile to assure all is well and under control.
DENNIS STRAUSS
Google Review
I highly recommend BrightStar for all your caregiving needs. Especially Sharlice, who did an excellent job assisting me when I first came home from the hospital. I needed a lot of help and she was there every step of the way as I progressed. She accompanied me on doctors visits and made the whole experience much more manageable. Also Tina, my night Caregiver, for her excellent skills and competence, and helping me to become more independent, Kimberly for being so responsible and reliable, and Desiree, for her excellent work ethic. She was such a hard worker and always ready to help out.
Laura Diane
Google Review
BrightStar Care Of Carlsbad continues to be very involved in our North County Parkinson's community and has been invaluable in helping many of our folks. Dan Sweiger is a familiar face at support group meetings and social functions. He well understands the needs of people and families dealing with Parkinson's. I would recomment Dan and BrightStar Care without hesitation.
Shirley Thomas
Google Review
I want to say a huge THANK YOU SHARLICE!!!! She helped with my mom's care this pass week and my mom really enjoyed her company. My mom had just had surgery on Tuesday it was supposed to be a "easy recovery" back home that same night. But that was not the case. You know the saying when it rains it pours...well that was us. My sister and I got my mom home and tried to get her comfortable in bed.. Then the bed frame breaks. We both had a long night got mom into a hotel that night, I had the 1st shift with mom that night exhausted and overwhelmed. The next morning my sister called Brightstar care of Carlsbad. There is where she talked to Dan and got a game plan in set. His team worked so fast like really fast found a nurse and a CNA all within minutes. Am so glad my sister called and got the help we needed! My mom felt so comfortable with Sharlice and had great communication with my sister and I. We will definitely recommend having Sharlice as your CNA. Thank you so much!!!!!
Using Brightstar to help care for my husband has been a positive experience. They are responsive to our changing needs. Our caregiver Maria is top notch. She is always on top of things and goes above and beyond caring for husband. Very happy to have her in our lives. Thank you Brightstar.
Jenny Swick
Google Review
Read All Reviews
BrightStar Care caregiver and nurse smiling with senior client and family member
Our Story
In 2002, CEO Shelly Sun founded BrightStar Care when she struggled to find the kind of compassionate and professional home care her parents deserved. Today, BrightStar caregivers and nurses provide the most complete range of assisted living services in the comfort of home to support local communities across the country, including right here in North County San Diego.

In 2019, Dan and Susie Sweiger opened BrightStar Care of Carlsbad with a passion for making a real difference for seniors and others with medical disabilities. They have quickly become one of the 100 best home care agencies in all of North America.
More About Our Agency
Award-Winning Care
We are proud to have been recognized for delivering the highest quality care to our community.
See All Our Awards
100 best home care agencies in North America
100 best home care agencies in North America
Home Care Pulse® Best of Home Care® Provider of Choice
Better Business Bureau Torch Awards for Ethics
Better Business Bureau Torch Awards for Ethics